Tucked up in the tranquil private mountains of the Catskills in Bethel NY is a community like none other. A community that lets you get away, but is just 90 minutes from the George Washington Bridge. This gated, upscale community is known as the Chapin Estate.
Featuring 2,500 plus acres of secluded woodland and rippling mountain lakes & streams meandering throughout the neighborhood, this community is for anyone looking for a picture-esque postcard type lifestyle right in their backyard. Currently there are 150 sold lots on the property and 102 homes constructed.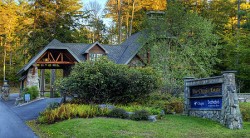 Each home within the five neighborhoods in the Chapin Estate has been custom designed using native building materials that showcases the area's pristine wilderness.
Besides the luxury living, the Chapin Estate features a Lake Club that has it all including a fully catered kitchen, aerobic area, gym and other regularly scheduled weekly activities for its residents and guests.
For over the past decade, The Chapin Estate has been developed and sponsored by Woodstone, a group of companies, located in Bethel, NY. Woodstone's main purpose was and is to develop land in the area and build luxurious handcrafted custom country homes.
One of the principals involved in the formation of Woodstone and the Chapin Estate is Howard Schoor. Mr. Schoor, a philanthropist, humanitarian and entrepreneur has served as Chairman/CEO of Woodstone Lakes Development, LLC and is an officer in the other Woodstone Companies.
To learn more about this wonderful community visit Chapinestate.com and to learn more about Howard Schoor and his amazing accomplishments and humanitarianism visit schoorcompanies.com/.
Tags: Bethel, Catskills, Chapin Estate, Howard Schoor, NY, Woodstone Communities, Woodstone Lakes Development